Hello everyone! I started my holidays on Friday, I'm back in Argentina till the end of January. I'll do my best to keep posting every day.
I came across this house at a site called Adelto which is dedicated to luxury residences. The pictures and following information are from this site.
Working within the constraints of an existing towerlike structure situated on a steep site overlooking the Mediterranean, architect Norman Foster created a seven-level, 6,500-square-foot modernist villa. In the living area, an 18-ton angled retractable glass wall and sun louvers "allow the inside and the outside to dissolve into one," he says.
The street-level access opens to the pool terrace on the roof of the house. A glass staircase, at left, leads to the studio entrance below. On one of the original tower walls, a staircase with stone treads, stainless-steel railings and steel cables zigzags from the studio entrance down. Transparent glass balustrades "relate to the vistas: They're parallel to the coast," Foster says.
"The principal areas encompass five levels, with related living, dining and library spaces." A glass elevator connects these levels to the bedrooms below and to the roof and pool terrace. The dining level is elevated above the living level and main terrace for clear, uninterrupted views out to sea," notes Foster.
"The house appears to hang suspended in space, hovering," Foster says. "From the living level or the dining level, it has been described as a cross between the deck of a ship and a helicopter." With the glass wall closed, he adds, "it's an exotic winter garden." Silver anodized-aluminum storage units in the dining area display a collection of traditional hammered pweterware.
Dynamic steel arches that swoop over the pool terrace and down the hillside are gridded with the network of cables that "support sails for shade and privacy as well as encourage the growth of greenery," Foster explains. "The materials, colors and detailing evoke a nautical feel." Eventually, the house will be partially covered by vines, blending the structure into its rugged surroundings.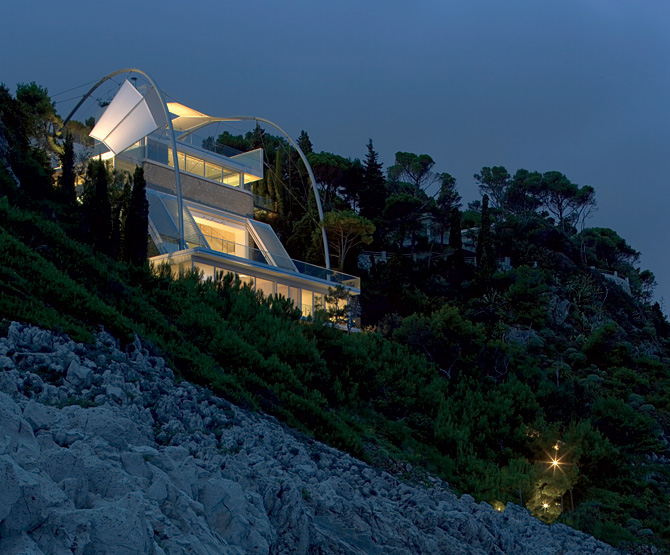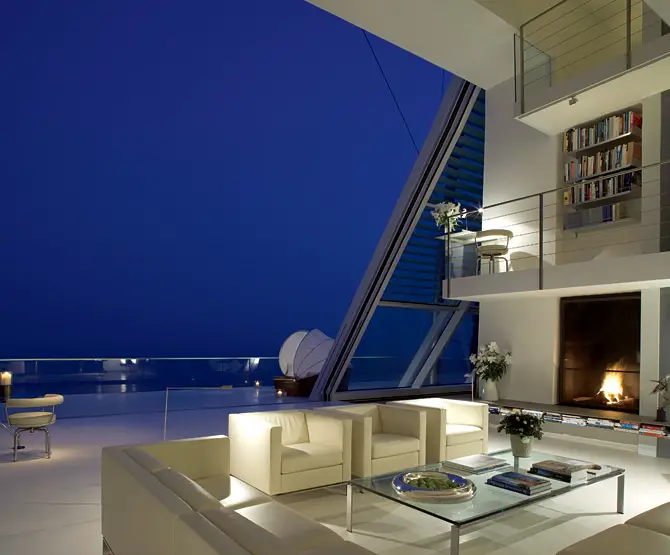 I'd love to know what you think about this house. Would you choose to live here?
You can find more luxury properties at Adelto right here
You have read this article casas bonitas / elegant houses / home design / House tour / inspiracion / inspiration / inspiring interiors / interior / ispiracion / luxury home with the title Luxury Mediterranean Cliffside Villa. You can bookmark this page URL http://vendettaxx.blogspot.com/2009/12/luxury-mediterranean-cliffside-villa.html. Thanks!